Why Rohingya women and girls are risking dangerous smuggling routes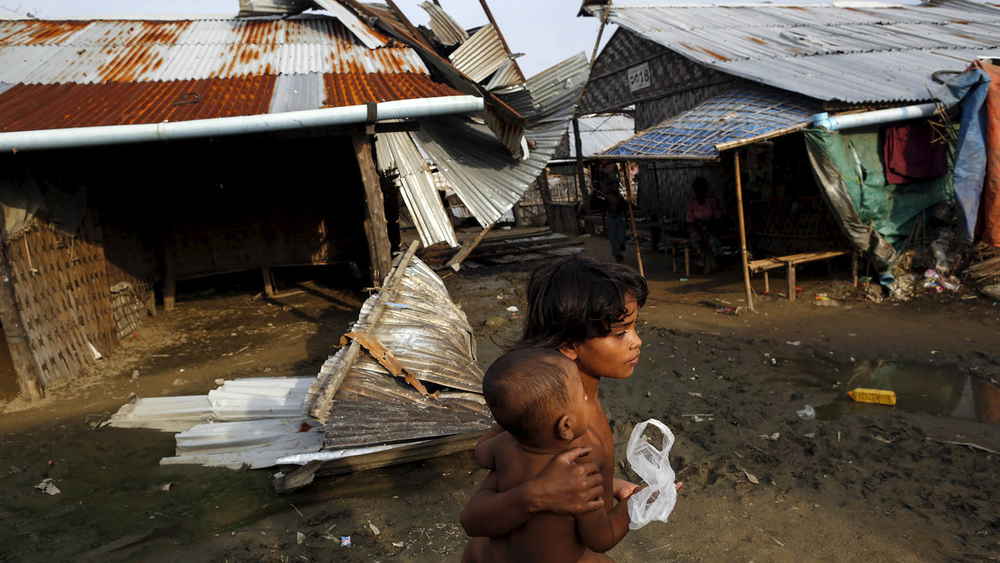 Facing years of deprivation and bleak future prospects, a growing number of Rohingya women and children are using once-dormant smuggling routes to escape refugee and displacement camps in Bangladesh and Myanmar, rights groups say.
Over the last two years, regional authorities have intercepted hundreds of Rohingya risking dangerous boat and overland journeys to leave Bangladesh and Myanmar. On migration trails once dominated by men, a significant proportion are now women and children.
Puttanee Kangkun, a rights specialist with Southeast Asia-based Fortify Rights, said roughly half of the Rohingya intercepted by Thai authorities on regional smuggling routes in the last year were women and girls. She said most were adolescent girls sent off to be married in Malaysia or Indonesia.
"We found that the majority of Rohingya ladies who arrived in Thailand were underage [for marriage]," Puttanee said. "From the conversations we had with them, most of them had arranged grooms waiting for them in Malaysia."
The UN's refugee agency, UNHCR, estimates that 59 percent of the people it tracked on maritime smuggling routes between January 2018 and June 2019 were women and children – a stark change from previous years.
Groups that work with Rohingya, as well as women who have made the journey in recent years, say the trend is a sign of rising restrictions and safety fears in Myanmar's Rakhine State and in Bangladesh's refugee camps.
Roughly 900,000 refugees live in the crowded camps, including more than 700,000 people pushed from their homes in Myanmar by a military purge in 2017. An estimated 600,000 Rohingya still live in Rakhine, where they face apartheid-like restrictions on movement, school, and healthcare. This includes some 125,000 people forced into barricaded and often dilapidated displacement camps in central Rakhine after ethnic clashes and an anti-Muslim pushback erupted there in 2012.
In interviews with UNHCR staff, intercepted Rohingya cited restrictions, threats, and a lack of future opportunities as reasons for leaving Bangladesh and Myanmar.
"For refugee women… leaving was often a form of self-protection because of the difficult and congested living situation in the camps, where they felt at risk of sexual and gender-based violence," said Francois Kernin, head of UNHCR's Regional Mixed Movement Monitoring Unit.
Refugee children said a lack of proper schooling was "denying them of a meaningful future"; many wanted to help their families earn a living.
"Some adolescent girls and boys also felt that leaving would… alleviate the suffering of their family," Kernin said. "There would be one less mouth to feed in a household struggling to meet their basic needs."
Threatened at home and at sea
Regional smuggling routes on the Bay of Bengal once transported tens of thousands of people each year, including Rohingya fleeing Myanmar and Bangladeshi migrants. But this crashed to a halt in May 2015, when Thai authorities cracked down on the routes and smugglers abandoned their human cargo at sea.
It's unclear how many Rohingya are now trying to leave Bangladesh and Myanmar. The UNHCR recorded at least 1,597 people on the move between January 2018 and June 2019, calling it a "small-scale resumption of maritime movements". However, these mainly included people on boats that were stranded or apprehended by regional authorities, meaning that the true figure is likely higher.
Dilda Begum, 16, a Rohingya refugee now living in the Malaysian capital, Kuala Lumpur, said her mother sent her away two years ago to be married in the hope she would be safer abroad than living in Myanmar.
She described her home in a camp in Rakhine State, or Arakan as it was formerly known, as a dangerous place for young girls due to kidnappings and other threats.
"My father died years ago, so my mother had no choice but to send me away. In the Arakan camps, there was so much abuse," she told The New Humanitarian in an interview at a small community centre run by a group that works with Rohingya women.
"There is no military that can kill me here, so here I know I'm safe," she said.
Dilda Begum's mother sent her to Malaysia to get married. Now 16, she left her home in a Rakhine State displacement camp two years ago.
Like Dilda's mother, many Rohingya see Malaysia as a relatively secure destination. Close to 100,000 Rohingya already live in the majority-Muslim country, though they are still considered undocumented migrants and subject to arrest and deportation.
Rights groups say Rohingya girls are often sent to Malaysia to be married because Rohingya men already there are willing to pay a bride price. According to Fortify Rights, some men have paid up to 6,200 Malaysian ringgit, about $1,500, to smuggle them. Once arriving in Malaysia, girls in forced marriages can end up living in "slave-like conditions", rights groups warn.
The journeys to reach Malaysia can also be treacherous. On her five-day boat trip, Dilda said she and other girls her age were routinely beaten for simply asking for food and water.
"The boat was so dangerous," she said. "I remember being so scared. There wasn't a lot of food or clean water and the smugglers would beat us many times."
Sharifah Shakirah, 24, the founder and director of the Rohingya Women Development Network, an organisation that supports Rohingya women and girls in Malaysia, said such stories are common.
"In the last few years, many girls were raped by the traffickers; they were sold, detained, and even killed," she said.
"I myself was smuggled into Malaysia when I was five years old, so I personally know the dangers of the journey."
Other rights groups have documented similar violence. A 2019 Fortify Rights report found that from 2014 to 2015, at least 112 people died while making the trip from Myanmar to Thailand. Many died from lack of food and water, others took their own lives, and some were killed by traffickers. Traffickers have also abducted Rohingya and pressured families to pay a ransom for their freedom.
New restrictions raise pressure
Despite the dangers, groups that work with Rohingya say many more women and children are willing to take the risk.
Yasmine, 23, a Rohingya refugee who works for an organisation focused on gender-based violence in Bangladesh's camps, said women face threats both in and out of their homes, citing growing pressure from conservative groups in the Rohingya community.
"They don't want women to work or be free," she told TNH in a phone interview. "Many of these men want to be married to some of the girls, even to those who are already engaged with someone else, but they still threaten the other family so they can have her."
Yasmine asked that she and her organisation not be identified for fear of reprisals.
Rights groups have warned of growing crime, abduction attempts, and trafficking in the city-sized camps. Women have also been threatened for volunteering or working with NGOs.
Detainees in a police station on 12 June 2019 after a fishing boat carrying more than 60 Rohingya refugees was found beached at Rawi Island in the province of Satun, Thailand, which borders Malaysia.
At the same time, Bangladesh has ramped up restrictions on free movement and use of the internet and mobile phones, while maintaining strict limits on schooling and legal work.
Mahi Ramakrishnan, founder of Beyond Borders Malaysia, an NGO that promotes refugee rights, told TNH more women and girls will likely leave the camps as the refugee crisis prolongs and life becomes harder.
From interviews with women and traffickers, she estimated that a minimum of 30 to 40 percent of people on board smuggling ships were women and girls, though she thinks the proportion could be higher – and rising.
"It's clear that many people are making the trip," she said.
For many families, it comes down to a belief that they are protecting their girls by sending them off to be married, Yasmine said.
"Before, there weren't as many problems. But more girls are going because of poverty and because of safety and security problems," she said. "It's these types of things that are fuelling their desire to leave."
zdroj:   https://alaiwah.wordpress.com